Sunday, November 28, 2004
_______________________________________________________________
Well, did not go to church this morning. Spent my time listening to music!! =) hehe..
Watched a disc of "My love patzzi" again.. I love that show to bits.. Oooooo...
=D
Have to go to school to buy the textbooks and all that for next year.. Tuesday having combine practice.. First time!! What should I do??? We sec 1 erhu students have not learnt finished the song yet.... Only the first page out of four!!! =(
Dad's out of hospital already.. =) Finally.. Nothings wrong anymore.. Praise the Lord!!
Write again another time for more updates. See ya!
i lurved youu || 4:25 PM
♥♥♥
Friday, November 26, 2004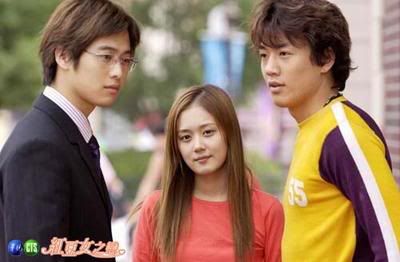 "My Love Patzzi"..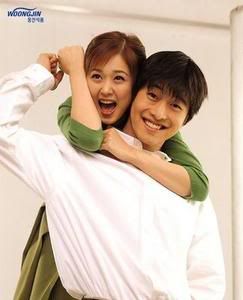 Jang Nara and Kim Jae Won.. My favourites!!
_____________________________________________________________bored
.
Nothing much to do nowadays.. Had co practice on tuesday and thursday.. I still can't seem to play the instrument well!! Practise.. practise and practise.. = l

This few days were rather lonely.. Having my parents in hospital was like being totally on my own.. Luckily I have a maid to help us with our meals.. There's nothing much to do at home.. Just using the computer and watching television.. No assessments for me!! =)
Stayed up late these past few nights.. Talked to Vincent on the phone about life and death on monday night.. ;) Till about 1.30am. Tuesday at 10pm, watched "my best friend's wedding".. Wednesday night watched "

My love patzzi

" which stars my favourite

korean

actress and actor.. [ Jang Nara and Kim Jae Won] ( Do you know he is soooooo cute!!) Watched till about 2am.. Last night finished watching the last two discs of the show.. Really nice. I just

LOVE

korean

drama serials.. =) Talked to Jia Juin on the phone about stupid stuff like what I did when I was a baby.. haha..
Oh ya! My mom's back home.. Wonder when's dad coming back..??
Days passes by rather quickly.. Soon it'll be december... Then Christmas!! I can't wait for that very day to come... Jesus' birthday.. hehe. Well, speaking about that.. My church at bedok is having a Christmas party for secondary 1-5 on 23december.. Cool huh.. Invited 9 people.. They are: Peijun, ZhiLin, FungQi, Annlynn, Brian, JunQun, Jia Juin, Wei Yin and dilys ( Annlynn's sis).. I'm going too, of course.
It's just going to be lots of ...............
FUN!!!
=D
yahooooo!!
I'm planning to start saving money next year.. I'm going absolutely CRAZY about korean dramas!!! Whoohoo... Gonna buy lots and lots of vcds... hehe!!!
logging off now....
goodbye!! take cares..
i lurved youu || 4:03 PM
♥♥♥
Monday, November 22, 2004
Sorry for not writing for such a long time. Many things have happened over the past few week.. This was what happened..
On Wednesday, my mom started to complain that her leg hurt a lot.. She could not sleep the whole night.. I kept hearing her pray out loud to the lord to help ease her pain..
On Thursday, it was my dad's turn to be sick.. He had a fever and felt cold..
The next day after work, he immediately came home. He was really sick. My mom and dad went to see a doctor. They took blood tests..
At night, the doctor telephoned. He had to refer my mom to a hospital as my mom's blood level or what was below 140 which a normal person should have. She went to the doctor and received a letter to be hospitalised at Changi General Hospital. She might have dengue fever.
My dad was really worried.. He was very pale.
My brother had a fever.. 38.5 degrees.
What is exactly happening??
Saturday.. My dad brought my brother to see the doctor.. The doctor asked my dad to observe my brother..
Sunday.. My dad complained of stomach aches, headache, fever.. And he could not really eat as he vomited a lot..
Today.. Went to the doctor.. My dad's blood level or whatever dropped from 200plus to 190.. He went to the hospital after that.. My brother is alright for the moment..
Just received news that my dad has to be hospitalised..
Praying hard that nothing bad is gonna happen....
i lurved youu || 5:42 PM
♥♥♥
Wednesday, November 10, 2004
hello.. back again.
Woke up at 9am this morning.. I was going to meet Vincent at 12pm to go swimming. I listened to music and lazed around.. Then at 11pm I went to bathe..

Was a little late. Both of us took bus 31 to Bedok Swimming Complex. There weren't many people at the complex again. After changing, we headed to the lockers. We then realised that we only had one 20-cent coin instead of two. So, Vincent went to ask an auntie for changing of coins..

At the pool.. It was cold. First I practised back float. Then Vincent asked me to swim together to the other side of the pool. [ from breadth to breadth] I could only swim free-style to the center.. I'm not good at that..I could only swim breaststroke. I find it much easier..


We decided to swim from the length to the other end of the pool.. Vincent said it was 50m far.. The first time I tried, I gave up. But after some time I could swim from one end to the other.. Yays!! =) I think it was due to determination.. haha.

The weather was unstable.. It was sunny at first and we could sun tan!! =) But unfortunately it soon began to pour.. Drizzling.. But we decided to get change and head for home.

Heaven wasn't kind.. When I got out of the changing room.. Oh boy!!! It was raining really heavily.. The surrounding was cold and hazy from the rain.. We went to sit at the "canteen".. We chat for some time, looking at each other's mobile phones.. After awhile, we both both a cup of hot milo.. Vincent bought two taiwan sausages.


At about 3pm, we headed home.
i lurved youu || 10:16 PM
♥♥♥
Tuesday, November 09, 2004
Hey. Sorry for not writing one more entry last week. My dad was using the computer for work.. =(
Let me recall what happened in the last few days..
Sunday, 7th Nov
Went to church in the morning.. =) It lasted till about 12.30pm.. My family took a taxi back home. Felt really hungry.. As my brother's birthday was nearing, my dad went to kfc to buy food back.. yum yum. =)
In the afternoon, my mom asked both my brother and I to do assessments again.. =( She does that everyday..
Another boring day for me..
Monday, 8th Nov
Woke up at 8.30am this morning.. I was going to school to meet Zhi Lin. We were going to check if the results for which class we are going to next year are out yet or not.. Unfortunately, not.
I wonder how long do we have to wait = The arranging of classes seemed to have changed alot.. From what I saw, the sec 3 classes next year are divided into ten classes.. [ 3a1, 3a2, 3a3, 3e4, 3e5, 3e6, 3e7, 3e8.... and so] And I heard that the best class would be 3e8.. Very different.
Saw Ms Annabel Ho went I went to school.. haha.. When we saw that the results weren't out yet, Ms Ho Lee Chew told Zhi Lin and me that there was an easier method or so to find out.. Then she pointed towards Ms Melinda Lim's direction.. Err. haha.. No way. Both of us were not intending to ask her..
Next we went to Tampines Mall.. It was kind of boring. The shops were not yet open.. Both of us walked around finding food to eat.. haha.. Finally we went to basement.. Bought egg tart.. Mmm.. =) Went to the staircase leading upstairs to sit and eat.. We chit-chat at the same time too. When we were done, it was about 12pm already.. Both of us walked around Tampines Mall and Century Square.. In the end we bought a pair of earrings each. =) Then Zhi Lin came over to my house next..
At my house, we watched "What a girl wants" dvd.. Even though I have already watched it for three times, I still enjoyed the show.. We chatted for some time.. Then she went home.
Tuesday, 9th Nov [Today]
Woke up at 7am today.. I had a dental appointment in school later on.. Reached school at 8am. Saw Fung Qi.. There weren't many people.. It was really quiet. Cedric, Vincent, Benny, Annlynn and Candy soon arrived too.. We waited at the old foyer for quite some time.. Saw Ms Annabel Ho again.. =) Vincent took many sec2 books back.. We had nothing to do while waiting..
Finally we were told by Tavis to wait outside the dentist van [ is it called van??] We waited for ages.. My turn came at around 9.50am.. The dentist was really friendly. While doing the "operation", he chatted with us, students.. He called us young ladies and men. =) It was not as scary as I thought it would be actually..
Fung Qi took a really long time, approximatly about an hour.. Went she came out, she complained that her mouth or gums were numb.. So she could not talk properly.. Cedric kept on immitating her.. And she could not even laugh.. It was quite a funny sight..
After waiting for Cedric, we went out of school.. We went to Metro as Fung Qi wanted to buy something.. Cedric, Vincent and I went up to look for other stuff.. We saw many toys there.. haha.. It was fun looking at all the cute toys. Then we saw Lego.. Vincent and I challenged to see who could fill up a board with lego first.. It was pretty childish actually.. Annlynn and the rest should came.. She joined us.. Both Vincent and I finished at almost the same time in the end..
We went to Tampines Mall fourth level next.. Went to the outdoor "playground".. We sat on a metal "something".. Four at a time.. And it spinned round and round.. After some time, we were really giddy and even felt nauseous.. We decided to go to "Mini Toons" to buy sour sweets.. It did work.. I felt better..
I went home after that..
After bathing, I took a nap. Then had to do assessments again.. =(
Guess that's enough for today.. It's 11.05pm already.. Good night!
i lurved youu || 10:11 PM
♥♥♥
Saturday, November 06, 2004
hi. i'm back.

=)

Tried logging in many times yesterday, but failed to do so. Guess there was a problem with my account.
There was the Singapore Idol results last night. Olinda was saved and Leandra got out instead. She's out!! Finally! I'm happy that she's out as I feel the others perform better than her. I think Taufik will get to the last as he has not gotten the least number of votes before.. He has many supporters.. Yesterday was boring as I did not have much to do. I woke up at 12pm!! I was so tired and kept having nightmares.. whoa. My mom asked me to do assesment books. Both English and Mathematics..

=(
For "ren wo ao you" last night, it was quite interesting as usual. It ended with Zheng Kang getting stabbed by a knife. There are many twists and turns in the story.. Monday's episode will be exciting.
=)
Well, today I was awoken by my mom's nagging at 9am. I went to bathe and had to do assesments again..

=(

I listened to M2M's music. Their voices sound like Daphne in Singapore Idol. So sweet.. Really like Daphne.
She should sing their songs.
Anyway, Julian, my brother's birthday is coming next wednesday. At first, my parents said we would celebrate today. But we are going to celebrate tomorrow instead.. In the afternoon, I watched the "Scooby Doo 2 " dvd.. It was quite a nice movie.. I could not guess what the outcome was.
7pm- Watched "My fair princess 3" on channel 8. The empress in the show did a really heroic act. She cut her finger and used her blood to write a petition for the emperor. She did that in order to stop the emperor from making a lady his concubine. It was not because she was jealous but because she didn't want the emperor to make a mistake.. it will only cause tongues to wag and all that. However, the emperor did not listen. He could even go against the empress dowager and others just to stick to his decision. The empress ended up cutting her hair which was really important to the manchurians [ may not be correct spelling ].. She also attempted suicide. The emperor finally agreed to stop the matter for the moment, but her took away the empress' title. At that point, the empress commented that life and death did not matter much to her anymore..
The show was really touching.. But I still prefer the characters of the first and second series. When the show ended, I quickly taped channel 5 for Pei Jun. She wanted to watch the Singapore Idol repeat. On channel i, there was a show on kidnap. I watched the remaining part of the show so I did not know what exactly happened. There were many killing and bloodshed so it was an awful sight.
Finally at 8.30pm, I am able to use the computer.. So now I'm writing this entry. Still have one more to go before this week ends.. Write again. Bye

=)
i lurved youu || 8:32 PM
♥♥♥
Thursday, November 04, 2004
hello.. Today was really boring. Well, kind of. If only I could add some
c
o
l
o
u
r
s
into my life.
=)
Anyway, I got up at about 9.30am today. Jing Xiong called to inform me that we do not have chinese orchestra practise today.. Heard that it's because they could not book a room.. So I sms Pei Jun and told her the information. [ Cause she wanted to meet me before co to pass me some tapes] She then told me to meet her at the MRT station at 2pm today.
I spent the morning at home doing completely nothing. I read the "i weekly" magazine to know what was going to happen in the later part of the "ren wo ao you" show.

=)

The character, YiLin, is really scheming.. She could do anything just to get the guy whom she likes. I hope she'll get her retribution soon. From the magazine, I found out that she later joined the opponent's team who were bad people.
At first I thought the day would be sunny, so I could go out to sun tan.. But it soon turned dark and started to rain. Oh, what luck! It rained just as I was about to go out of my house to meet Pei Jun. I asked my dad for money to buy a cd. Then, I grabbed an umbrella and went. It was raining cats and dogs. Luckily I had not left my house earlier or I would already have been soaked from head to toe. I quickly rushed to the MRT station to meet her. Along the way, I nearly tripped as the ground was rather slipperly.. When I met her, she passed me a blue plastic bag which was rather heavy.. It contained three tapes. [ Pei Jun wants me to help her tape the "ren wo ao you" show, which premier on weekdays at 9pm.. She's flying off to Bei Jing tonight]
=(

Next, I headed towards Tampines Mall. Went to music junction and bought Fish Leong's cd.

=)

I went back. Luckily my house is quite near Tampines Mall.. When I reached home, I spent my time listening to songs and lying on the sofa. The rain stopped but soon started again. It was cold.. Soon I felt tired, so I went to bed. Woke up at around 5pm. Listened to music again. I'm bored..
Watched television on channel u at 7pm. It was funny.

=)

Now "Singapore Idol" is showing on television. Too bad I can't watch it as I have to write this entry. But It's alright as I have already taped the show..

=D

I can't wait to watch the 9pm show later on..
Okay. Guess I'll stop here now. Bye! See ya soon
=)
i lurved youu || 8:21 PM
♥♥♥